Agricultural and construction machinery oils
The Agricultural and construction machine oils by I.G.A.T. International German Additive Technologies AG meet and exceed the strictest international standards. The broad range extends to the groups multifunctional oils (UTTO) and multifunctional oils. We stand for high-quality products at attractive prices, combined with a perfect service.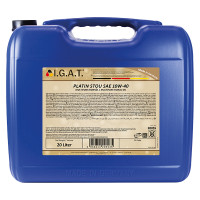 High-quality, state-of-the-art, multi-purpose oil on an HC synthesis basis for agricultural machines and vehicles. Developed for use in engines, gears, hydraulic systems, wet brakes and clutches. Selected additives guarantee high performance even under extreme strain. Good cold start properties and low oil consumption.